On top of the hundreds of wildlife patients we admit to our rehabilitation program every year, we care for a small team of non-releasable education ambassador animals. Many appear with our outreach staff at schools, senior centers, scout meetings, and other community events.
You can support our work by sponsoring the care of one of our ambassador animals! Your donation helps provide food, shelter, and medical care for the sponsored animal and supports the Sanctuary's educational outreach programs.
A one-year sponsorship is $50 per animal.
You can sponsor the education ambassador(s) of your choice, or you can sponsor in honor of a loved one. We will send you or your loved one a letter about the animal you're sponsoring as well as an adorable photo of our ambassador.
Click here to make a donation and designate it as an ambassador sponsorship. From our team of ambassadors and humans alike - thank you!
Become a Sustaining Donor
Please consider becoming a Sustaining Donor by making an automatically recurring monthly donation that is secure and easy. (You may use a credit card or an automatic bank transfer. Both methods are secure and safe.)
Setting up a monthly Rockfish Wildlife Sanctuary gift is easy. Here's what you need to do:
To set up Sustaining Donor contributions through a credit card:
Simply click the above Donate button and fill in your info. 
To set up Sustaining Donor contributions through an automatic electronic funds transfer:
Please print out, complete and return this Transfer Authorization Form; we will send you an email to let you know that your transfer authorization has been set up. 
If you'd like to send us needed animal care supplies, please check out our Amazon wish list!

These items are necessary for us to provide the highest standard of care possible for each and every patient at RWS. We go through supplies quickly with hundreds of wild animals on site at a time, and your contributions are incredibly valued. Your purchase is shipped directly to RWS. Thank you!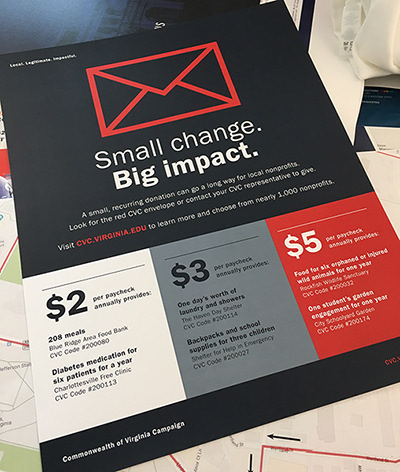 Commonwealth of Virginia Campaign
Rockfish Wildlife Sanctuary is proud to be a part of the largest workplace giving program in Virginia — a program that enables employees to make donations to their favorite charities through a payroll deduction system.  
The Sanctuary isn't a federal or state agency – we rely on the generous support of caring individuals to provide quality care to thousands of animals in need each year.
Contributions the Sanctuary received through this campaign can help provide antibiotics and anti-fungal medication for our education animals … or materials to rebuild a shelter … or food for a malnourished and orphaned red fox kit.
Thank you for your consideration!
Bequests and Estate Planning
When you include the Sanctuary in your estate planning, you can be confident that whatever you give will be carefully used to advance your goals.
There are many ways to support the Sanctuary through estate planning – starting with a will. 

You may also amend your current will with a codicil to designate a gift to the Sanctuary.
You may also help support wildlife by naming the Sanctuary as the beneficiary of your:
Life insurance policies  • IRAs or other retirement accounts
Stocks, bonds, or other securities • Mutual funds or bank accounts
In many cases, these beneficiary designations may be made online or with a quick telephone call.
Other planned-giving vehicles
Through wise estate planning, you may be able to receive significant tax and income benefits during your lifetime, through remainder trusts and gift annuities.
We encourage you to consult your attorney, financial advisor, or bank trust officer for information about which option might be best for you.