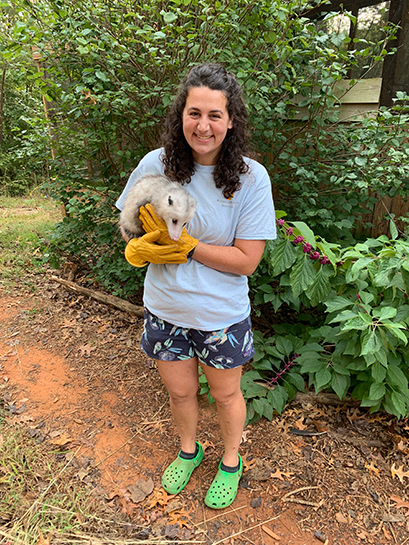 Sarah Cooperman, CWR (she/her)
Sarah has loved animals her whole life and would try to coax deer into her house when her parents weren't looking. (Don't do that.) After graduating from Williams College, Sarah completed a research fellowship studying perceptions of bats in other countries. She was particularly inspired by the Australian wildlife rehabbers she met who worked with flying foxes. Sarah then started her own journey as a  rehabber at RWS in 2018. She holds a Category IIB wildlife rehabilitation permit and is a Certified Wildlife Rehabilitator through the International Wildlife Rehabilitation Council. As Executive Director, Sarah manages the Sanctuary's daily operations and staff while supporting development alongside our Board of Directors. Sarah also manages our communications and educational programs. Outside of her work at RWS, Sarah enjoys river tubing, tending to her many houseplants, watching movies with her snake, and hiking with her dog.
Staff Wildlife Rehabilitator & Human Administrator
Jeff Wilbur's love of the outdoors led to a professional life of being an Outdoor Educator and a Landscape Architect. Teaching people how to live, travel, play and conserve the wilderness as well as teaching people how to create their own little wilderness at home has been a lifelong joy. Helping the creatures that we share the environment with is a natural fit. Jeff holds a Catagory IV wildlife rehabilitator permit and all the reptiles, amphibians and mammals he can get his hands on. His home life is managed by two Great Pyrenees and a herd of goldfish (his RWS life by a herd of wonderful rehabilitators). 
Rehabilitation Program Manager
As a young child, Elka would keep toads and any other critter she could get her hands on (even worms - lots and lots of worms) in her bedroom and try to take care of them until they were discovered by her continually horrified guardians and rightfully released back into her backyard...where she would try and catch them again. Though she rarely brings worms into her house now, the love and curiosity for wildlife that she developed as a child has only grown - and this naturally led her into the field of wildlife rehabilitation. Her first wildlife rehab experience was at the Wildlife Center of Virginia in 2019. She eventually graduated from the University of Michigan with a Bachelor's degree in Biology and has worked at a multitude of wildlife hospitals across the country since. However, Virginia and its wildlife have always held a very special place in her heart, and she eventually WORMED her way back here as a permanent staff rehabber at RWS in April of 2023. When Elka isn't working, you can often find Elka digging around in the mud or flipping over rocks looking for salamanders and other critters. During the rare times, she isn't around animals, she loves to crochet, read, and just nap for hours at a time .
Staff Wildlife Rehabilitator
Whether it was tromping through the forest behind their house or vacationing in remote wilderness, Grace's father introduced her to the magic of the outdoors as a young child; and her love for animals grew from there. Between her animal focused classes while studying Zoology at Drake University, and her participation in research on native Iowa wildlife, her fascination and passion for wildlife continued to grow. In the summer of 2021, she interned with RWS and fell in love with Virginia and the native animals. After returning to Iowa for her last year of undergrad, she found herself back at RWS in April of 2022. When not working with wildlife, she is back home with her dog, two cats, and snake.