Nathou Attinger (she/her)
Nathou's great love has always been non-human animals. With a BA from UVA, Nathou has owned a landscaping company for 29 years, and currently shares her home with four dogs, three cats, one cockatoo, and a bunch of chickens, pigeons, rabbits, and doves…and her partner! Starting RWS 20 years ago allowed Nathou to care for even more animals, and thus far it has succeeded beyond her wildest dreams. Nathou holds a category IIB permit to rehabilitate wildlife and train other rehabbers, as well as a permit from the US Fish and Wildlife Service that allows RWS to rehabilitate migratory birds.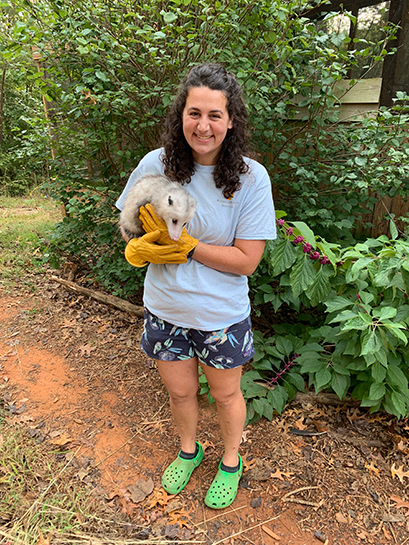 Sarah Cooperman, CWR (she/her)
Sarah has loved animals her whole life and would try to coax deer into her house when her parents weren't looking. (Don't do that.) After graduating from Williams College, Sarah completed a research fellowship studying perceptions of bats in other countries. She was particularly inspired by the Australian wildlife rehabbers she met who worked with flying foxes. Sarah then started her own journey as a  rehabber at RWS in 2018. She holds a Category IIB wildlife rehabilitation permit and is a Certified Wildlife Rehabilitator through the International Wildlife Rehabilitation Council. As Executive Director, Sarah manages the Sanctuary's daily operations and staff while supporting development alongside our Board of Directors. Sarah also manages our communications and educational programs. Outside of her work at RWS, Sarah enjoys river tubing, tending to her many houseplants, and hiking with her dog, George. 
Wildlife Rehabilitator & Human Administrator
Jeff Wilbur's love of the outdoors led to a professional life of being an Outdoor Educator and a Landscape Architect. Teaching people how to live, travel, play and conserve the wilderness as well as teaching people how to create their own little wilderness at home has been a lifelong joy. Helping the creatures that we share the environment with is a natural fit. Jeff holds a Catagory IV wildlife rehabilitator permit and all the reptiles, amphibians and mammals he can get his hands on. His home life is managed by two Great Pyrenees and a herd of goldfish (his RWS life by a herd of wonderful rehabilitators). 
Dez Brooks, CWR (they/them)
Rehabilitation Program Manager
Dez spent their childhood outside, investigating their backyard or the muckiest ponds in town to find the most interesting animals. This led to a lifelong career working with animals, starting with wildlife rehab in 2018, a brief jaunt into the zoo field, and back to wildlife. After graduating with a biology degree from the University of Oklahoma, they joined the RWS team in 2022 in order to continue their passion of helping native creatures, and hold a Category IV wildlife rehabilitation permit. Dez is also a Certified Wildlife Rehabilitator through the International Wildlife Rehabilitation Council. In their personal life, they love to experience the outdoors, be it hiking or spending a morning on their balcony. Most of all, they adore their cat Tango, and share their adventures with her.
Whether it was tromping through the forest behind their house or vacationing in remote wilderness, Grace's father introduced her to the magic of the outdoors as a young child; and her love for animals grew from there. Between her animal focused classes while studying Zoology at Drake University, and her participation in research on native Iowa wildlife, her fascination and passion for wildlife continued to grow. In the summer of 2021, she interned with RWS and fell in love with Virginia and the native animals. After returning to Iowa for her last year of undergrad, she found herself back at RWS in April of 2022. When not working with wildlife, she is back home with her dog, two cats, and snake.