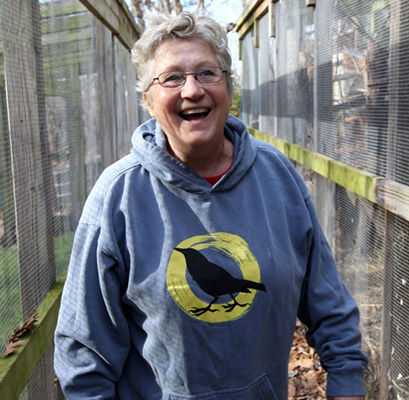 Nathou Attinger's great love has always been non-human animals. With a BA from UVA, Nathou has owned a landscaping company for 29 years, and currently shares her home with four dogs, three cats, one cockatoo, and a bunch of chickens, pigeons, rabbits, and doves…and her partner! Starting RWS 20 years ago allowed Nathou to care for even more animals, and thus far it has succeeded beyond her wildest dreams. Nathou holds a category IIB permit to rehabilitate wildlife and train other rehabbers, as well as a permit from the US Fish and Wildlife Service that allows RWS to rehabilitate migratory birds.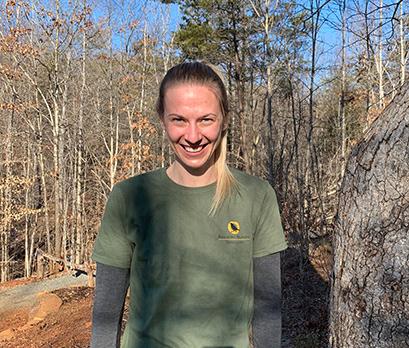 Brie Hashem started volunteering at a wild bird clinic to gain experience for her graduate school applications, and ended up working as a wildlife rehabilitator for over seven years before joining the team at RWS. Brie holds a Category I wildlife rehabilitation permit, as well as a B.S. in Environmental Resource Management from Pennsylvania State University and a Master of Natural Resources from Oregon State University. She most enjoys working with volunteers and interns and teaching them nerdy bird facts. When she's not at work, Brie spends her time in the mountains with her husband and two dogs.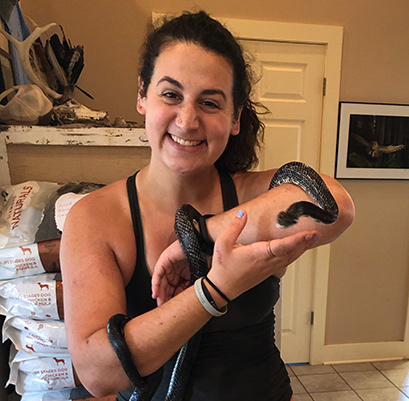 OUTREACH COORDINATOR/WILDLIFE REHABILITATOR
Sarah Cooperman, Category IV wildlife rehabilitator, has loved animals her whole life and would try to coax deer into her house as a child when her parents weren't looking. After graduating Williams College in 2017 with a degree in biology and environmental studies, Sarah spent a year on a research fellowship studying perceptions of bats in other countries. In Australia, she was inspired by the wildlife rehabilitators she met who worked with  flying fox education ambassadors. She was excited to start her own journey as a wildlife rehabilitator at RWS in 2018. While bats hold a special place in her heart, Sarah enjoys working with opossums, blue jays, red foxes, and yellow billed cuckoos. Sarah is especially passionate about wildlife education and serves as our Outreach Coordinator at RWS. When she's not rehabilitating critters, Sarah trains our education ambassadors, designs and presents our educational programming, and manages our social media presence.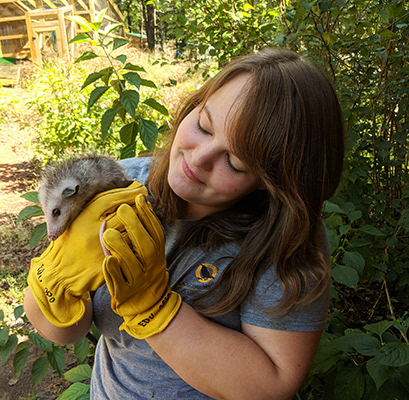 Julia Night, Category IV wildlife rehabilitator, has been an animal lover her whole life. From taking care of kitty litters as a young child to volunteering at the ASPCA in high school, she has always enjoyed providing care and attention to all critters. As well as her work at RWS, she has a local network of house&pet sitting clients. After a career in managing coffee shops, Julia most enjoys learning more and more about animal behaviors in a peaceful outdoor setting. From feeding baby squirrels to hawks and owls, she loves interacting with all the different personalities of wildlife.
WILDLIFE REHABILITATOR
/
HUMAN ADMINISTRATOR
Jeff Wilbur's love of the outdoors led to a professional life of being an Outdoor Educator and a Landscape Architect. Teaching people how to live, travel, play and conserve the wilderness as well as teaching people how to create their own little wilderness at home has been a lifelong joy. Helping the creatures that we share the environment with is a natural fit. Jeff holds a Catagory IV wildlife rehabilitator permit and all the reptiles, amphibians and mammals he can get his hands on. His home life is managed by two Great Pyrenees and a herd of goldfish (his RWS life by a herd of wonderful rehabilitators).