Cool off with a cold pour at
$1 from every draft pint of DB's delicious Vienna Lager  sold at their Basecamp location will be donated to RWS. This partnership will last for all of July 2023.
Where:

Devils Backbone Basecamp Brewpub & Meadows
200 Crandall Run, Roseland, VA 22967
When:

July 1-31, 2023 (yep, all month!)
What:

order a draft pint of Vienna Lager
Why:

to help baby wildlife, duh!
RWS will be tabling on Saturday, July 1st from 3-6PM with some of our education ambassador animals. Come say hello!
Join us for an extra "wild" weekend on May 6th and 7th, 2023!
May 6th: RWS visits Lovingston Winery. 10% of proceeds from the day's flights and glasses of local wine go to RWS.🍷
May 7th: Wildlife Baby Shower at Selvedge Brewing. Bring an item from our Wish List and receive a free drink ticket.
🍻
Join RWS's staff and some of the Sanctuary's education ambassador animals for an afternoon celebrating all things spring. Proceeds from the event's tasty specialty drink will support our mission at the Sanctuary. Check out local florist pop-ups, participate in sunny yoga, and enjoy live music!
Bloom Fest 2023 will take place at Potter's Craft Cider:
1350 Arrowhead Valley Rd, Charlottesville, VA 22903
The Wool Factory's team voted for Rockfish Wildlife Sanctuary to be its charity of choice for March 2023! 
🥳
That means that 10% of daytime proceeds from The Wool Factory will go to RWS every Friday this month. Swing by for a cup of coffee at The Workshop, have your lunch meeting at Broadcloth, and hit up happy hour at Selvedge Brewing Company in support of our mission.
On March 17th and 24th, Andy the opossum ambassador will even be in attendance! See below for more info.
⬇️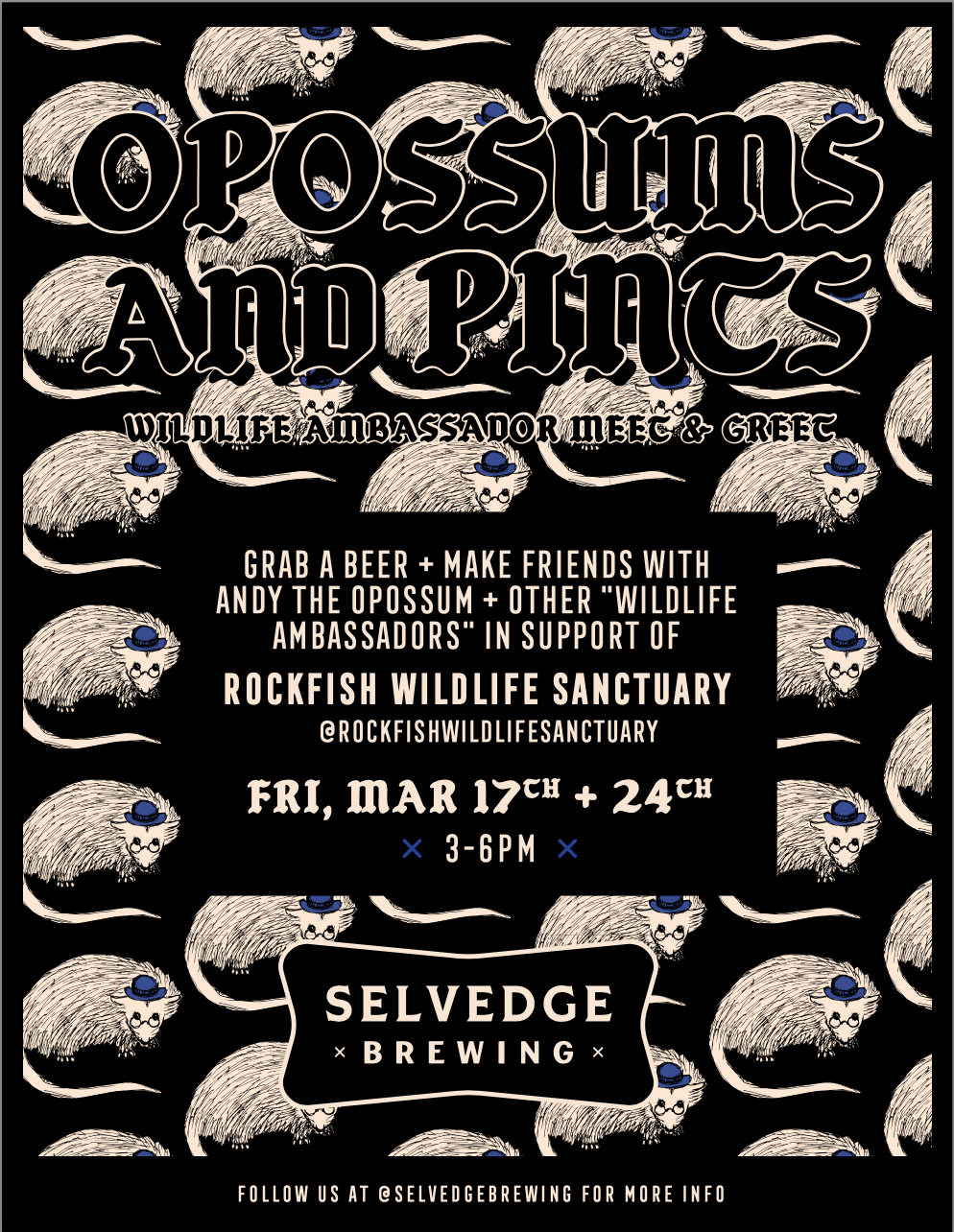 We've teamed up with BatBnB, a simply batty company that makes gorgeous bat houses for your property.
The perks? You get 15% off of your BatBnB order, and 10% of your order will be donated back to RWS!
upport your neighborhood bat populations while supporting our work to help native wildlife, too. It's a win-win.
Head to batbnb.com/ROCKFISH to pick out your new bat house, or enter promo code ROCKFISH at checkout.
Join us on Wednesday, July 27th at Random Row Brewing Co. in downtown Charlottesville for a night of bingo, brews, and fabulous prizes. Proceeds from this fun evening will go straight to RWS so we can continue to help native wildlife through our busy summer season.
 Bingo card sales start at 5:30 PM, and the first of ten rounds kicks off at 6 PM. Bingo cards are $5 per deck. The more bingo card decks you buy, the better your chances of winning one of our prizes from stellar local spots like:
- Jack Brown's Burger and Beer Joint
- Grand prize: a sunset batteau cruise for two on the James River!
Can't make it to bingo? Good news: $1 from every pint of Random Row beer
sold the entire day
will be donated to RWS too! Consider this your excuse to have a couple of cold ones on a Wednesday.
Questions? Shoot us an email at info@rockfishwildlifesanctuary.org. We can't wait to see you there!
Rockfish Wildlife Sanctuary recently partnered with the Virginia Safe Wildlife Corridors Collaborative (VSWCC) to aid in their efforts in reducing animal-vehicle conflicts and improving safe wildlife passage. Former RWS Director Brie Hashem sat down with Katie Keller from Wild Virginia, a driving force behind VSWCC, to discuss wildlife crossings.
  Click the link below to listen to the podcast!
Thanks to the Click&Pledge Video Series for selecting 
Rockfish Wildlife Sanctuary's founder, Nathou Attinger,
You might be surprised by what we've been using to help with raccoon releases this year...a repurposed deer-hunting stand! 
We like to "soft-release" many of our rehabilitation patients, which means we give them access to food and shelter for the first few days (or weeks, depending on the species) after they've been released. The hunting stand has enabled us to put raccoon crates up on a platform that is difficult for many other animals to reach, but they can also easily access trees surrounding the platform to climb and explore. The platform has helped our released patients get adjusted to a world without enclosure walls. 
It only took this group featured in the video a few minutes to start learning about their new, wild home. We look forward to using this awesome set-up in the future for the dozens of raccoons we rescue, rehabilitate, and release annually. 
Following the lifting of the bat rehabilitation moratorium by the VDGIF, RWS promptly 

received 9 baby big brown bats. Once they were big enough to leave the nursery they moved out and into the just recently finished bat enclosure. The highlight of the move was for staff to witness their first flights in the enclosure - circling and avoiding the hanging pool noodles (placed to provide avoidance training) 

Four have now been released!
Our annual silent art auction to benefit RWS. 
            WILD ABOUT ART
will be held from
 April 16th to April 30th,
ONLINE
.
Guests bid on fabulous art and more,
 and support a great cause!
Visit the Auction Website:  
Enjoy a local craft beer and help support RWS!!!
On April 22, $1 from every draft beer sold at both Blue Mountain locations will be donated to local animal charities.  Benefiting organizations include Rockfish Wildlife Sanctuary, Almost Home Nelson County SPCA, and Hope's Legacy Equine Rescue.
Rockfish Wildlife Sanctuary: Supporting Native Species (ONLINE)​​​​

​​​
Thursday, December 10, 2020 | 3:00pm - 4:00pm
Wildlife rehabilitators play an important role in our communities by being a first-step resource when someone encounters a wild animal in need. Rockfish Wildlife Sanctuary aims to reduce wildlife suffering in Central Virginia by rehabilitating injured and orphaned native species. Founded in 2004 out of their founder's home, they have since expanded to a 20 acre facility in gorgeous Nelson County where their 50+ enclosures cater to nearly all native species in Virginia. RWS typically intake over 800 wild animal patients every year! That number continues to trend upward as they continue developing and urbanizing their landscapes.
So how do we become better neighbors to our local wildlife, and why should we care in the first place? And what on earth do wildlife rehabbers actually do? In this virtual learning program with The Center, RWS Outreach Coordinator and wildlife rehabilitator Sarah Cooperman will tell you about what goes into the process of "Rescue, Rehab, and Release." Sarah will also introduce you to some of our furry, feathered, and scaly education animal ambassadors who live year-round at RWS. Learn their stories and all about our fascinating, helpful wild neighbors here in Virginia during this fun-filled glimpse into the world of wildlife rehabilitation! Free and open to all.
Meeting ID: 890 5143 3620